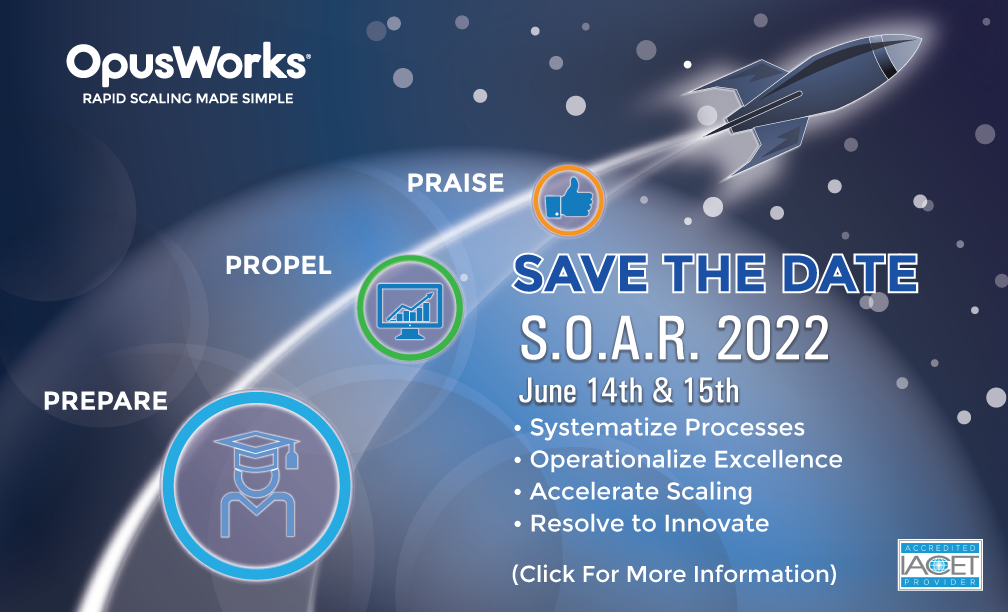 The purpose of our annual S.O.A.R conference is to enable information sharing and the exchange of best practices among the Process Improvement community, highlighting the successes of several OpusWorks Customers who are Rapidly Scaling their LSS/OpEx/CPI-related learning and execution processes.
Save the Date: June 14th and 15th, 2022
Want to lean more? Fill out the form to the right and we'll send you the event brochure and registration link when available.
Hosted by:
Rob Stewart, Rapid Scaling Made Simple, CEO, OpusWorks
Topics Include:
Day 1:
Rapid Scaling and the Quest to Elimate Deployment Varation
Rapid Scaling with Technology

Ramping up for Rapid Scaling

Sustain Your Black Belt Population for more Rapid ROI Scaling





Day 2:
Rapid Scaling with Data Driven Integrity - One Year Later
Rapid Scaling of a Customized Deployment
OpusWorks Tech Tent - Top 10 FAQs
Rapid Scaling of Lean Six Sigma
Rapid Scaling Excellence and Innovation


S.O.A.R 2022 a Virtual Conference for Process Improvement Professionals